Click here to preview the new documentary by Alice Rothchild and Sharon Mullally
Photos from the interviews, more information about the film and more.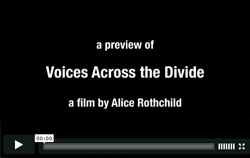 Voices Across the Divide explores my personal experiences, born in Boston in 1948 to first generation parents and growing up with the State of Israel as my friend, my pride, and ultimately my heartbreak. I became a teenager in the dark shadow of the Holocaust and the redemptive sunshine of the founding of the State of Israel, the heroic David miraculously fighting the goliaths of anti-Semitism and Arab hostility. As a young Jewish woman, I completely succumbed to the national mythos surrounding the 1948 Israeli War of Liberation and like many in my generation, in the famous words of former Israeli Prime Minister Golda Meir, there was no Palestinian people. There was also no Nakba or Palestinian catastrophe created when Jews founding Israel drove Palestinians off of their land. There was not even any doubt that this land was rightfully ours.

AcrossDivide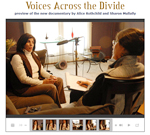 CLICK HERE TO WATCH A SLIDESHOW PREVIEW
of the soon-to-be-released documentary film
Including: photos from the interviews, more information about the film,
and a link to make a donation to the project.