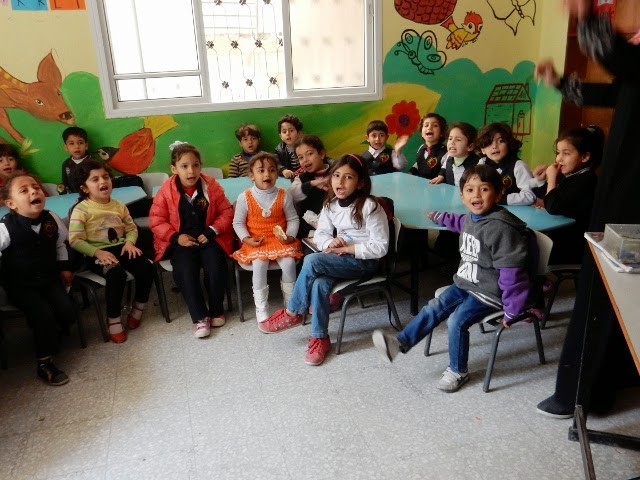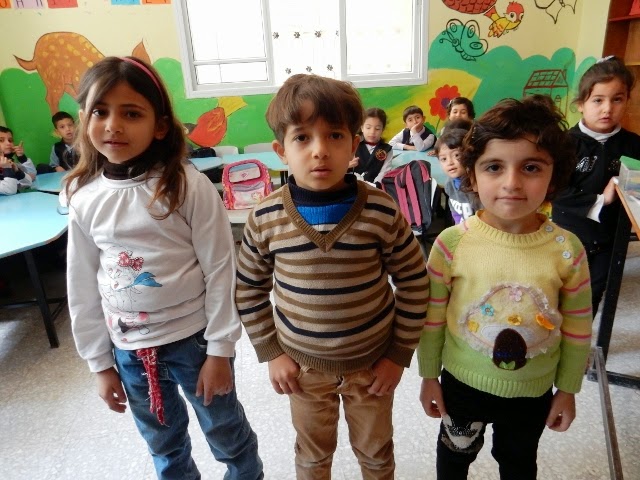 Wejdan Diab, Marwan Diab's sister, welcomes me to the Meera Kindergarten in Gaza City where the walls are painted Disney bright; I spot many photos, and murals of dolphins, giraffes, a windmill in Holland (?) with a pond and a duck, dress up clothes including large yellow and white flowers, dabke outfits. The school has morning and afternoon shifts. It all looks quite "normal" but this is Gaza where gardens of any kind are actually quite hard to sustain.
Wejdan's face has this disarming blend of joy, laughter, and intense tragedy. Behind the raucous din of children playing, singing, and rote repetition as teachers and children shout to be heard, she shares photos of the destruction of the school during the last war: broken glass, bullet holes, and fractured building parts.  She explains that if a child is six years old, he has already experienced three wars, or perhaps his mother was pregnant during the first one.  "It was very difficult for all of us, every day thanks God I am alive.  The bombing was terrible everywhere, my kindergarten was partially destroyed, including windows and doors."
In July 2014 the Israeli forces repeatedly bombed the city of Shejaia, east of Gaza, to Dresden-like conditions. Sixty survivors sheltered at the kindergarten, the traumatized children destroyed many of the toys, were tormented by nightmares and bed wetting, but Wejdan and her staff worked hard. "I wanted the children to be safe, we made arts and crafts to help children.  They had no toys, these children are suffering." The survivors brought bits of toys from under the rubble and they painted them, a guitar singing, a child living in a tent drew her toy on fire, one placed her doll's head in the center of a picture surrounded by death.
Every day the kindergarten staff made parties for the children, brought in clowns; some children refused to go outside, some were afraid of the sky or particular noises, but they are now getting better.  And then there are the kids who lost their parents, one father who was a journalist was assassinated by an Israeli missile. He was covering a multi-missile attack in Shejaia which included attacks on two ambulances and rescue workers.  A quick look at the internet reveals this: [ https://globalvoicesonline.org/2014/07/31/warning-graphic-video-from-gaza-documents-the-killing-of-journalist-ramy-ryan-by-israeli-missiles/ ]
His child brought the father's helmet to school and "drew the father at paradise eating apples." The journalist was active in the school, teaching the students to use cameras and be reporters. Wejdan's heartbreaking collection of photos are stored in a big plastic folder, Mickey Mouse and Friends on the cover with Daffy Duck and Goofy. Wejdan urges me to follow the kindergarten on facebook: meeragaza. [FYI dear reader, it is 9:00 am at the Marna House where we actually have running water, guilty hot showers, a decent restaurant….and the electricity is flickering on and off. I lose internet connection with each disconnection; the simplest things are most challenging.]
Wejdan takes out a plastic folder stuffed with papers; she conducted a survey when the fighting ended and sent the letters to the fathers and mothers of the children.  We scan through the letters as I feel the heavy weight of human suffering in its most intimate details: These are the experiences of kindergarteners.
After war, is anybody injured? Anybody having bad feelings? Is anyone is scared? What happened to homes?
Answers: Cannot sleep. God I do not want to die. We hold her. When she sits alone she talks to herself about dying. The home was destroyed and she is afraid of bombing. She doesn't want to go alone to any room. Noises frighten her and there is a lot of crying.  A lot of stories in their minds and they are talking about what they see on TV and the dead and the bombing. Daughter has strange behavior, stressed, nervous, sad, afraid the war will come again. She says that maybe the teachers will not be able to help the children, only feel safe with mother and father. Nightmares, going to the doctor because of bad feelings. Kitchen is destroyed, living room destroyed.  Bed wetting, crying, afraid at night
Wejdan is counterintuitively cheerful, chuckling while recounting the horror. "I left my home near here. There is an Islamic University branch nearby and maybe it will be attacked." She joined her relatives at her family home. And then she adds: "All the children are suffering, 170 children were at the school," some were unable to talk, became mute and their hair fell out.
I am ready for quiet sobbing in some small dark place, but we take a tour of the school where the children are energetic, lively, curious, and each child who experienced some horrific trauma or loss is invited to come up and shake my hand.  I do not know if they understand why. The brightest moment comes with a high spirited performance of a kindergarten dabke troupe, the boys and girls are in costume, beautifully synchronized, high stepping, waving their arms, music blaring, celebrating their national heritage.  I feel the nurturing of samoud and a kind of determination to endure that will serve these children well in this most traumatic of places.
Wejdan invites Kareema Raian, the mother of the murdered journalist, Ramy Raian and the grandmother of two children who are at the school to talk with me. Kareema's eyes betray a sense of deep sadness and loss and the tears come quickly.  She explains that her son was going out to take pictures of the Israeli destruction, to expose the truth; she prayed, "allah akbar," and begged him not to go.  He pinched her cheek and "that was the end."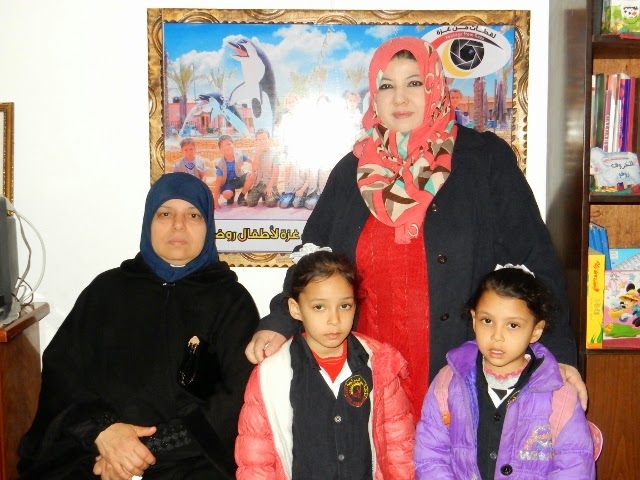 Kareema explains that they were told there would be no firing from 3:00–7:00 pm "so they said you can take stuff from the markets, so he went to the market.  He has no gun or anything, he is journalist only and when he take pictures, the plane killed him with 17 other people, three of them from one family." She sits in her black abayahand hijab, dark lines under her eyes, and talks about the other people killed, one had a pregnant wife who later named her newborn after the infant's dead father. Her hands twist at her tissues as she recalls Ramy's wife calling him for lunch and "he said no, I want to take pictures, alhamdulillah. I will eat with the other journalist."  An hour later he was dead, but she first thought he was injured, there were multiple phone calls, people coming to her home, and then her nephew saw the murder on television. She has no electricity, but that morning she dreamt that he died and saw him in a white jacket. "I prefer I dead, not him. He didn't smoke, he was polite, he had two boys and two girls."  She married him off at 17 because he was an only son and she wanted grandchildren.  The five and six year olds come in to the office, somewhat subdued and clearly still swimming in loss. Old souls already.
And the Israelis are already discussing the "next war."