First published in: https://justworldeducational.org/2017/01/alice-rothchild-friends-gaza-jan-2017/
The drive to Gaza City is largely unchanged from 2015, the crazy drivers and constant honking and near death experiences, the donkeys with carts piled high, the horses trotting between all the chaotic traffic, the sheep bleating in caged carts, the lack of traffic lights or traffic cops or a sense of world order. The buildings seem a bit upgraded in a third world kind of way, some newly repaired and painted, others in various states of disarray or partially built or bombed. The Marna House Hotel feels like an oasis in this troubled part of the world, even the staff remembers me with lots of smiles and warm hugs.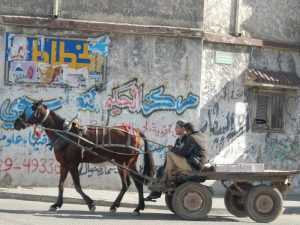 I spend the afternoon with a group of college students and recent graduates who are involved in a writing program called We Are Not Numbers, (https://wearenotnumbers.org/). Largely women, these young Gazans are fluent in English, many majored in English literature, and they want to be writers. My heart breaks for them. The program introduces each writer to an English speaking author to act as a mentor as they work on an essay which is later published on the WANN website or picked up by other websites. I have had four mentees and I enjoy the role of teacher and advisor and am also moved by the painful stories these young people have to tell. For me, they are the faces and voices of Gaza that are largely invisible to the American public.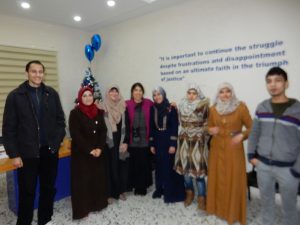 They want to discuss how to write in order to change the minds of people who either strongly disagree with them or are uneducated. They clearly want to discuss the problem of getting Palestine into the general discourse beyond the stereotypes and the framing promoted by the Israeli messaging industry. So we talk and we talk. I focus on the power of the personal narrative and their unique positions on the front line. Once again I am moved and impressed by their earnest thoughtfulness and aspirations, their desire to move beyond the walls in which they live and to change people's hearts and minds. Some are serious, others playful, everyone is smart, ambitious, frustrated with the limits of existence in Gaza, and eager to expand their skills, opportunities and minds. One woman, Rana Shubair, is self-publishing a book, In Gaza I Dare to Dream. It will be available on amazon. Go buy it. She is not sure she will ever see an actual copy because it is being printed in our world, not hers.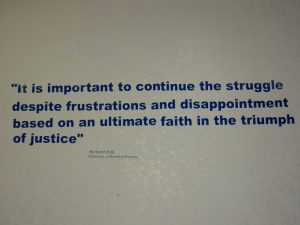 Gaza was once famous for its incredible sea food, but due to the shrinking fishing zones, the frequent attacks on fisherman by the Israeli military, and the rising pollution of the sea by rivers of untreated sewage (treatment plants and infrastructure bombed repeatedly by the IDF), a healthy fish is now an increasingly rare commodity. But miracles still happen and we find ourselves at a lovely dinner by the sea in an elegant restaurant with plenty of electricity (three generators), fancy folded napkins and attentive five star waiters, almost no patrons, and the most fantastic spicy calamari and shrimp and various fishes, with some of the staff of the Gaza Community Mental Health Program (GCMHP).
The conversation is warm, open, filled with updates, humor, and the topics that dominate life in Gaza but do not usually dominate an American evening. There is lots of laughter and friendly banter. One big issue is the lack of electricity. After the last war, electricity was brief and erratic much of the time, but it seems that in the last two and a half years it has made various kinds of appearances as the juice is distributed across the Gaza Strip over a 24 hour period: on eight hours – off eight hours, on four – off twelve, totally unpredictable, on and off…and this is making people crazy. Everyone who can afford to has a UPS battery, a backup generator, (fuel is very expensive), and some other ways to store a little pot of electricity during those dark hours. Solar panels are prohibitively expensive. This crisis is related to general malfunctions in the system due to the wars, broken parts, the lack of and/or expense of fuel, the supply from Israel, and the gross incompetence of the private company responsible for the whole show.
What this means in real life is that computer work, answering emails, taking exams, refrigerating food or medications, running dialysis machines or respirators, cooking dinner, cleaning, and the thousand things that 21st century people expect to be able to do are now not reliably expectable. This is how rats in a shock box feel. The outrage recently triggered a social media campaign signed by thousands of outraged Gazans and demonstrations that have reportedly already resulted in the arrests of the organizers by the Hamas government. (https://www.maannews.com/Content.aspx?id=774822) There is a risk that this will provoke serious civil unrest. I note that one of the staff has plugged his mobile into an electrical socket behind us, you clearly need to get electricity when you can.
For reasons that are completely unclear to me, the GCMHP staff can still enjoy dinner, laugh at jokes about the "romantic lighting" in their homes and the ever growing population created during those cold dark nights.
After a ridiculous amount of fish and salads and lemonade and fruit, the talk becomes more reflective and serious. Dr. Yasser, executive director, discusses the reality of a center where 45 professionals see 3,000 patients per year, of the multifactorial nature of the patients' problems, of the need to train the trainees: the professional health workers and the counselors and CBO's (community based organizations) in the schools. Reviewing the last ten years, he is finding that patients treated for PTSD post one war easily relapse with the first reminders of bombing in the next war. Children who were doing well are suddenly bedwetting again and waking screaming in the night. The cues for the traumatic events are everywhere and can trigger trauma that goes back to the occupation in 1967. He calls this "delayed onset PTSD." The war in 2014 was the worst and was experienced by a population with an accumulation of traumatic events and an inability to escape the war which has been continuously present.
He recounts a story of a father whose young child asked him to give them a hypnotic because he wanted to die while sleeping and not to see anymore death. The father said this was the most painful moment in his life.
Dr. Yasser says that the goal is to finish therapy with hope, to focus on the good, you are still alive, you did not lose your children. But people are being slowly depleted psychologically and financially and losing their ability to experience emotions of love and comfort, "there is less and less of a reserve." He notes that during the 51 days of war, despite the enormous number of causalities there were no funerals, no mourning houses, no ability to grieve because the Israelis shelled groups of people and cemeteries, and robbed the Gazans of even that human experience. Yasser's 85 year old grandmother died of natural causes. The family quickly took her to the hospital to confirm her passing and then buried her in the cemetery. It was over in an hour. No one had a chance to grieve.
And it was even worse for people who witnessed loved ones killed in front of them. His neighborhood was heavily shelled and he went to stay with a colleague. When they visited relations sheltering in UNRWA schools, they began to understand 1948. People stayed in the shelters and did not return home because they had access to food supplied by the UN, canned food reminiscent of the humanitarian supplies during the Nakba. Whole neighborhoods were displaced, people fled to a "safer" area only to be killed there. Twenty seven members of his family died after leaving their own neighborhood in Khan Yunis seeking a safer place. There was no safer place. These kinds of memories live in all the staff. 11,200 were wounded, 80 families were completely wiped off the face of the earth.
The staff at GCMHP face these feelings daily, working with the toughest, most traumatized people, "bit by bit" and it is extremely difficult. They are not a political group but a human rights organization. Sometimes this comes at a heavy cost. Their founder Dr. Eyad Seraj wrote a book called Darkness in Gaza and was subsequently imprisoned by Arafat. The good news is that the staff feel supported by internationals and appreciated by their local communities; their work, their resilience and decency is truly extraordinary.
For more information from previous blog postings:
https://alicerothchild.com/2015/03/march-22-2015-part-one-mish-mushkela-no-problem/
https://alicerothchild.com/2015/03/march-26-2015-part-two-we-are-not-numbers/
https://alicerothchild.com/2015/03/march-22-2015-part-two-no-time-to-mourn/
https://alicerothchild.com/2015/03/march-29-2015-so-if-you-killed-my-child-you-think-you-are-strong/